What initiatives did Shavkat Mirziyoyev put forward at the 72nd session of the UN General Assembly?
On September 23, the President of Uzbekistan will take part in a high-level general political debate at the 75th anniversary session of the General Assembly of the United Nations (UN).
For the first time in the history of independent Uzbekistan, the president of the country will speak at a session of the UN General Assembly in the state language. The central events of the General Assembly will be held in the format of a video conference in connection with the current epidemiological situation in the world.
In his speech at the plenary part of the session, Shavkat Mirziyoyev will present to the international community his vision of topical issues on the regional and global agenda, and also outline the priorities of the political, social and economic modernization of Uzbekistan.
Recall that Shavkat Mirziyoyev, in his speech at the 72nd session of the UN General Assembly in September 2017 in New York, also voiced a number of important proposals and statements.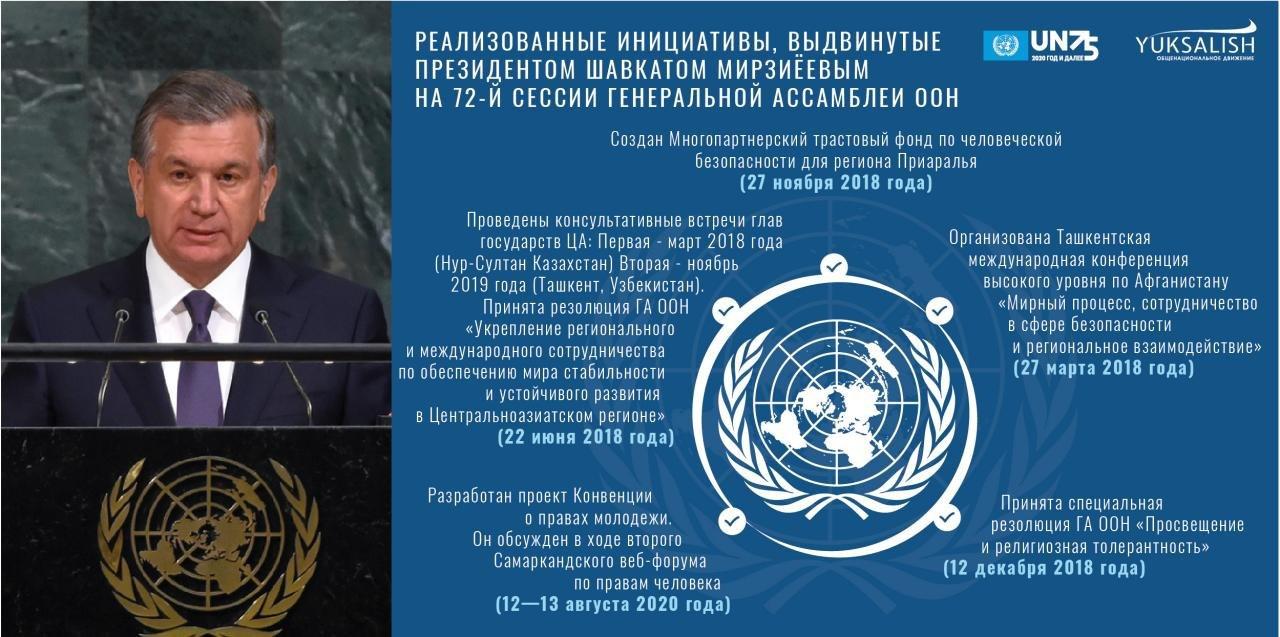 In particular, over the past period:
– organized a high-level Tashkent international conference on Afghanistan "Peace process, security cooperation and regional interaction" (March 27, 2018);
– consultative meetings of the heads of state of Central Asia were held. The UN General Assembly Resolution "Strengthening Regional and International Cooperation to Ensure Peace, Stability and Sustainable Development in the Central Asian Region" was adopted (June 22, 2018);
– Establishment of a multi-partner human security trust fund for the Aral Sea region (November 27, 2018);
– a special resolution of the UN General Assembly "Education and Religious Tolerance" was adopted (December 12, 2018);
– a draft convention on the rights of youth has been developed. It was discussed during the second Samarkand Web Forum on Human Rights (12-13 August 2020).
In addition, speaking at the 72nd session of the UN General Assembly in September 2017, the President drew the attention of the world community to one of the most acute environmental problems of our time – the Aral Sea disaster.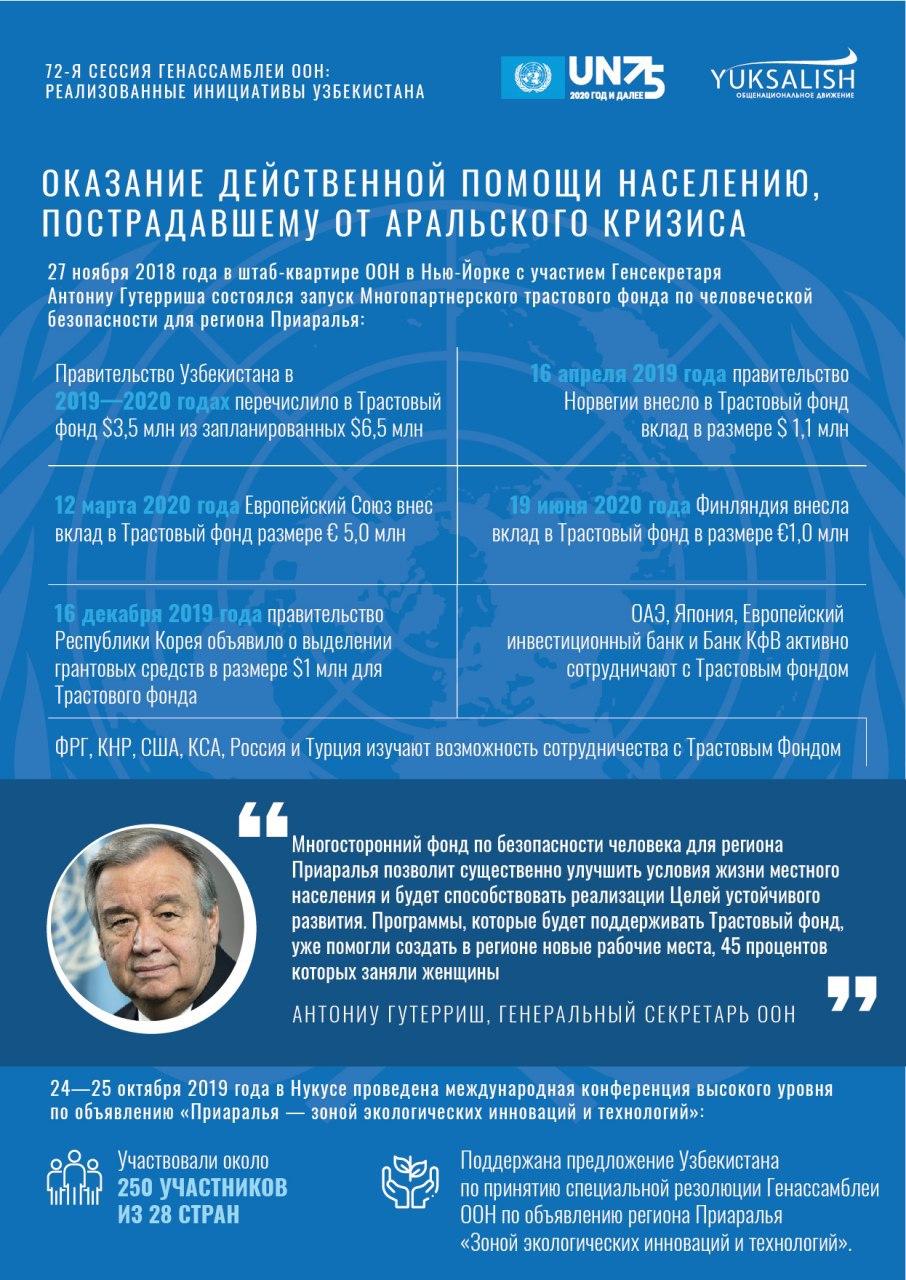 As noted above, the head of state also came out with a proposal to adopt a special resolution of the General Assembly "Enlightenment and Religious Tolerance."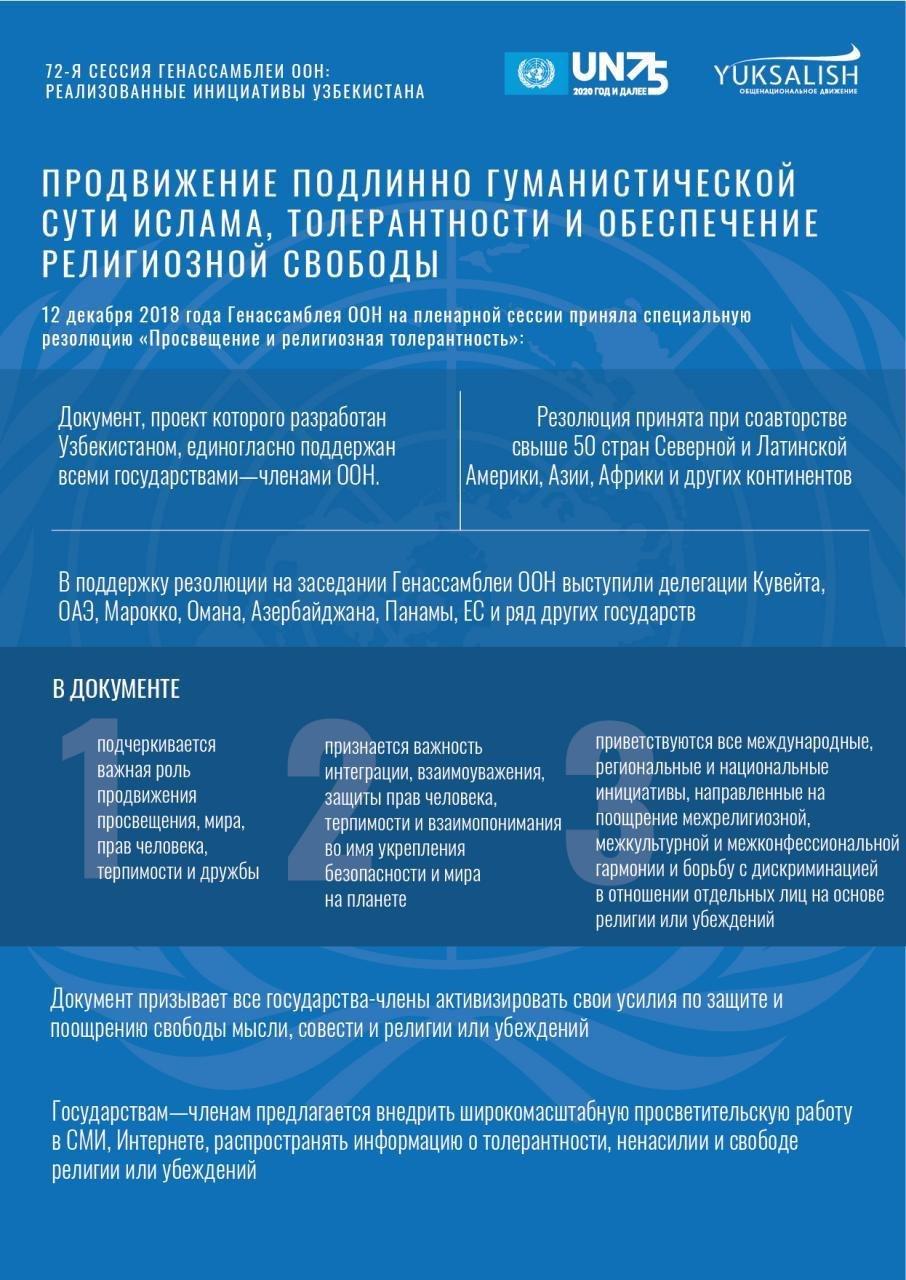 It is expected that at the jubilee 75th session of the UN General Assembly, President Shavkat Mirziyoyev will put forward a number of important initiatives aimed at strengthening peace and stability, ensuring sustainable development, deepening constructive dialogue in the region and at the global level, promoting human rights and freedoms, as well as countering modern challenges and threats, including climate change, food security problems, poverty eradication and poverty reduction.
Watch the performance on Wednesday 23 September at 18:00 on the following TV channels and social media pages:
– "O'zbekiston", "O'zbekiston 24", "Zo'r TV", "Sevimli TV", "Milliy TV" (in Uzbek)
– "Yoshlar", "Toshkent" (in Russian)
– "Uzreport TV", "Dunyo bo'ylab" (in English)